Welcome to Braintree Printing's News Blog
News:
03/08/2019:
Alignable Selects Braintree Printing's Jim Corliss as
2018 Small Businessperson of the Year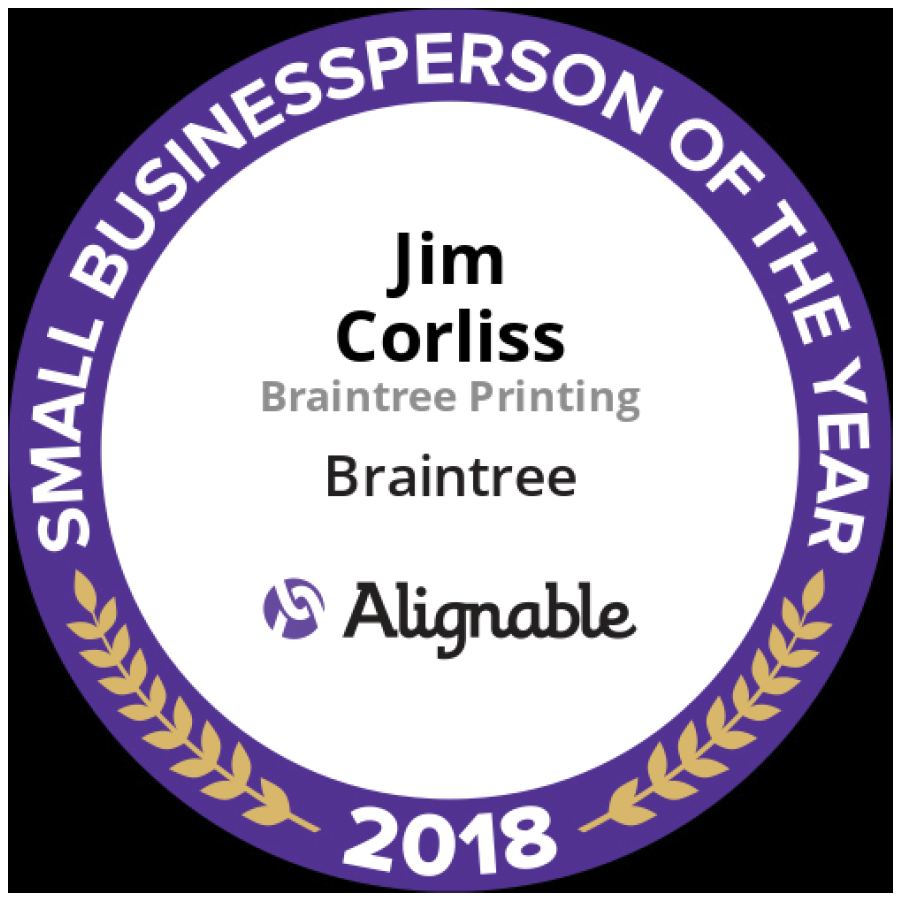 February 2019:
Braintree Printing, Inc. Invests with Confidence: Meets Lucrative Market Opportunity with two iGen 5-150s
---

From left to right: Jose Tafur, Owner, Braintree Printing, Barbara Boardman, Xerox, Jim Corliss, Owner, Braintree Printing
Braintree Printing of Braintree, Massachusetts has historically been known for its high volume, offset printing. They service the trade in New Jersey, New York and New England. Yet as the market grew from customers demanding small batch jobs with varying specialty sizes and tight turnaround times, the company not only invested in one Xerox® iGen 5 150 Digital Printing Press, but two.
Speed, quality and reliability were key functions in finding a digital system to complement the company's offset offering. With a focus on in-house book making, Braintree looked to iGen to deliver consistent image quality. "We're able to achieve optimal quality for books and brochures while remaining competitive in this price-driven market," says Jim Corliss, Owner of Braintree Printing. "We depend on iGen's built-in automation technologies to minimize guesswork and maximize productivity."
With a 1:3 press operator to press ratio, Braintree trusts iGen to take on any job. The Color Maintenance Tool and Inline Spectrophotometer delivers outstanding image quality while the Auto Density Control System works in tandem to minimize variability of photoreceptors, detecting and correcting streaks before they occur. For customer jobs with a mix of images and heavy text, Object Oriented Halftoning renders images for optimal smoothness. For the different requirements of text, Object Oriented Halftoning renders elements in the document at a 250-line screen that is optimized for sharpness.
"We pride ourselves on investing in the most current technology in our industry and are constantly upgrading and acquiring new Xerox equipment to meet customer needs," says Corliss.
To learn more about the Xerox iGen 5 Press and its unprecedented productivity, automation, quality, and flexibility, visit Xerox.com.